About Us - Qualifications and Experience
The principal ownership and expertise is provided by:
Mark R. Kline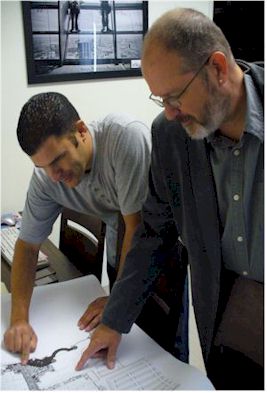 Co-Owner/Partner certified in the design and installation of several fall protection manufacturers of life safety systems and lifting systems in the United States, Canada and Mexico.
With Hamilton Blake, LLC he consults with partners and employees to perform site surveys, who work with engineers and manufacturers; ultimately designing and directing production of fabrication and installation of fall protection systems, balcony railings, and entertainment automated systems and equipment. He ensures 100% compliance with City, County, State and Federal rules and regulations as well as holds several certificates in installation, training and certification.
Mr. Mark Kline works directly with our clients to find the safest and most economical way to do a job - from complicated decorative displays for Las Vegas casinos to life safety systems in unique configurations. Mark is the instructor for our Safety Training courses provided by Hamilton Blake, LLC both in our interactive training center and on-site for customer specific needs, teaching over 7000 employees in the past 5 years.
Contact
We are conveniently located just off the Las Vegas strip.
Address:
6380 S. Valley View Blvd., Suite 318,
Las Vegas, NV 89118
Offices Hours:
9:00 a.m. to 5:00 p.m.
Monday through Friday
Telephone: 702-307-4477
Fax: 702-307-4488
Office Contacts:  
Erica Bernal
Mark Kline
Driving Directions

Joe Lizarraga
Co-owner and license holder for the company. Since 1988 Mr. Lizarraga has successfully operated At Your Service Companies with extensive experience in the following disciplines - please note that these type of projects are only performed by At Your Service Companies, and we will be happy to refer you to At Your Service Companies for:
Construction Services - carpentry, ceiling work, demolition, doors, windows and hardware, drywall, framing, HVAC, electrical, energy management, fire safety, and painting
Facilities Maintenance and Operations
Janitorial Services
HVAC Services he does with his other company

Specialty Qualifications and Certificates
Fall Protection & Rescue Awareness – Train the Trainer
Confined Space User Training & Rescue – Train the Trainer
CM Lodestar & Prostar Application & Maintenance Certifications - Columbus McKinnon (CM)
Certified Installer - Sayfglida Horizontal Lifeline Systems & Evolution Lifeline Systems - DBI/Sala (Capital Safety)
Certified Installer - Tractel Travsafe & Travspring Horizontal Lifeline Systems
Certified Installer – Rigid Lifelines Fall Protection Systems
Installer of Roof Tie-Back Systems for Work at Height Access
Factory Authorized Repair Technicians/Facility - Tractel Griphoist Tirfors T508D, T516D, T32D, TU-17, TU-28, TU-32, Tirak Motors and Self Retracting Lifelines
Certified Rope Access Technician - Society of Professional Rope Access Technicians (SPRAT)

History
Hamilton Blake, LLC was formed in 2008 as a direct result of client needs - no other company licensed in the states of Nevada, and Arizona, exists that specifically approaches fall protection installation - with full bonding, insurance and contractor licensing.
In 2010 Hamilton Blake teamed with Tracked Lifts as the west coast sales and service center. Here is is an introduction to this partnership!
We are proud that since formation of the business, our company
has experienced no accidents, injuries, or claims. Safety is our business
and we take it seriously.