Inspection, Load Testing and Certification of Electric Motors
Don't Cut Corners! - safety inspections and certification of your motors is required each year!
We will perform the work at your site or in our shop. Here's a flyer for information about our hoist inspection and certification.
Services For: R&M Hoists (Stage Maker), Columbus McKinnon, Chainmaster
References from our clients are available immediately upon request. Simply email: erica@hamiltonblakesafety.com or call us at 702-307-4477.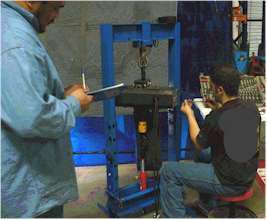 Contact
We are conveniently located just off the Las Vegas strip at
4325 W. Patrick Lane, Suite 105, Las Vegas, NV 89118
Offices are open from 7:00 a.m. to 4:00 p.m., Monday through Friday
Telephone: 702-307-4477; Fax: 702-307-4488
Office Contacts: Erica, Ty, and Mark